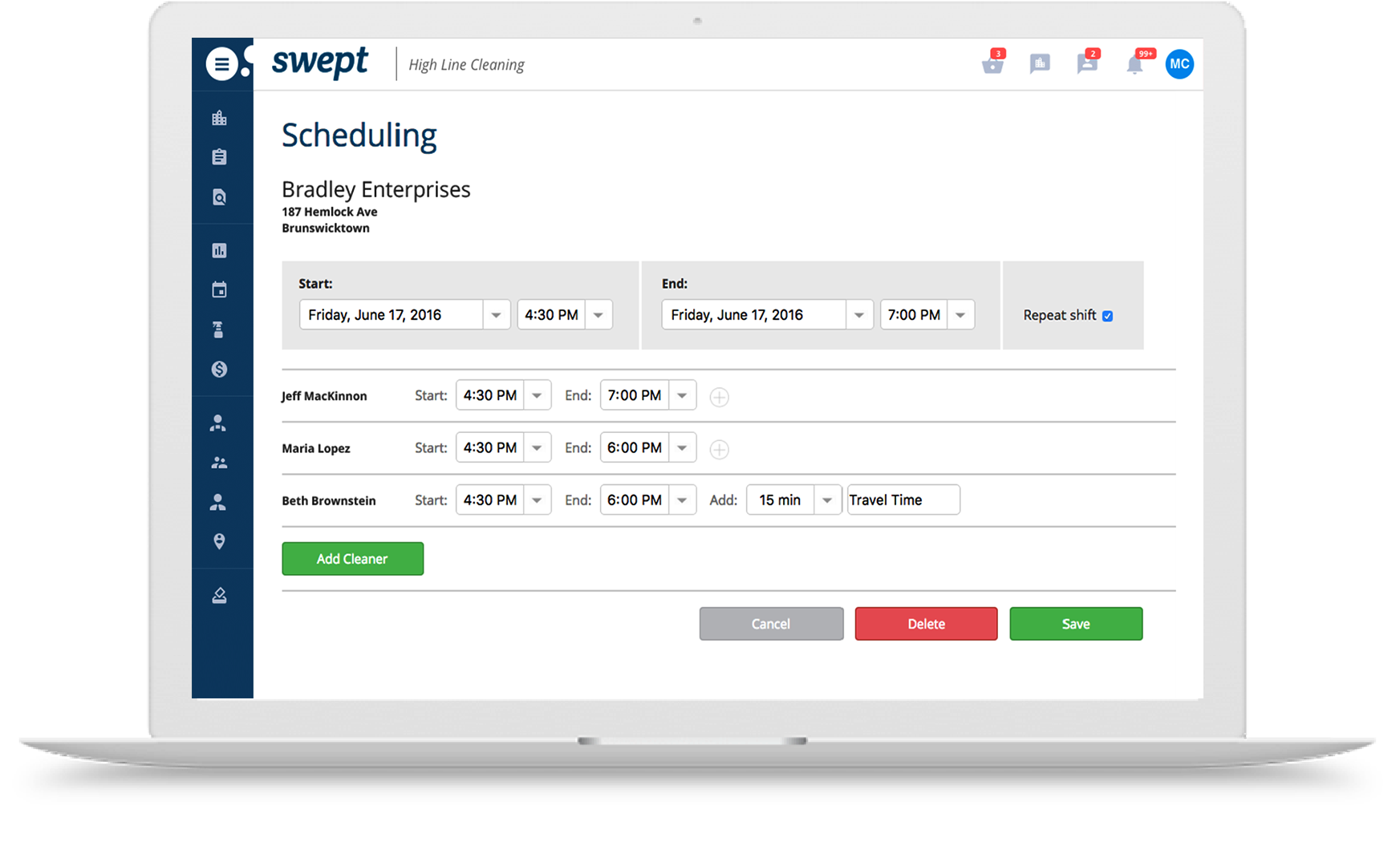 Our Commercial Customer Management Software
We use a CRM with a mobile app to manage our janitorial staff and commercial locations. Managers and clients can easily communicate with cleaning staff. As a client, you gain access to critical information about the status and health of your location. Features of our janitorial CRM:
Improves scheduling and shift planning

Accurate GPS based time tracking

Easy to use inspection tool for better reporting

Provide access to location specific training and instruction

Connect with cleaners, managers and clients

Dashboard with status and health of your location

Complete supply management

Payment options available
Our Residential Customer Management & Booking Software
Our new house cleaning software helps us deliver improved services by providing an online booking and residential cleaning quote system. Each customer can access a portal to access scheduling, cancellations, notifications and payments. Features of our house cleaning CRM:
View our availability in real time and schedule service

Not ready to book? Request a quote online

Choose from a variety of services for customized service

Set up online payments

Book recurring appointments

Enter discount codes or purchase gift cards

Get notified of appointments by text or email

Provide ratings and feedback
CLIENT FOCUSED
Our valued clients know the RamClean difference. From industrial plants to construction cleanups and office cleaning, we've got every detail covered to ensure 100 percent satisfaction.
ADVANCED TECHNOLOGY
At RamClean, we use the latest tech to improve our services including mobile apps for remote management and state of the art cleaning and janitorial equipment.
ACCOUNTABILITY
Client properties are inspected routinely. House cleaning customers can rate each cleaning and provide feedback. We won't miss the little things–or the big things. RamClean's highly trained staff is bonded and insured. We comply with all OSHA regulations and all federal, state and local laws.
UNMATCHED VALUE
We work diligently to provide the best dollar-for-dollar value in commercial cleaning services in the midwest. Our clients reduce costs through energy conservation and efficient processes. At the same time, we are improving the health of employees and customers that enter your building.
Superior service and customer satisfaction are everything at RamClean! Our entire commercial cleaning operation is designed to deliver ongoing professionalism and the finest cleaning service in the midwest.
All RamClean cleaning staff is comprised of W2 employees that are uniformed, bonded and insured. We pay better wages and treat our staff like family. Their honesty and reliability are as important as their cleaning expertise. Our management team is hands-on working with our highly skilled, cleaning teams each day.
Cleaning is not just about appearance. Our goal is provide sustainable cleaning practice while eliminating virus and bacteria. We are on the front lines fighting COVID-19.  Our valued clients know the RamClean difference as we work hard to maximize the health and safety of anyone that enters a "Ramcleaned" building