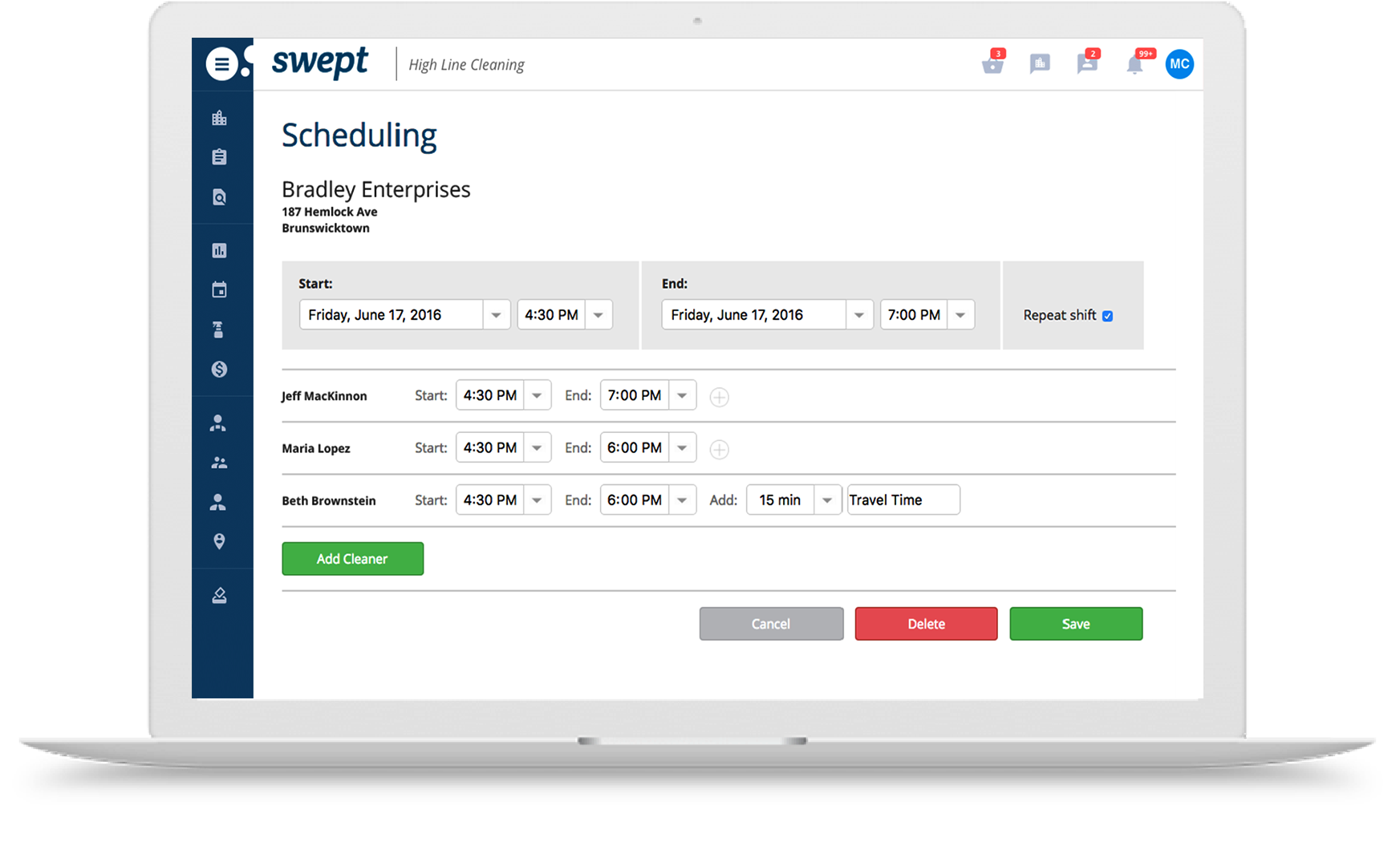 Our Commercial Customer Management Software
We use a CRM with a mobile app to manage our janitorial staff and commercial locations. Managers and clients can easily communicate with cleaning staff. As a client, you gain access to critical information about the status and health of your location. Features of our janitorial CRM:
Improves scheduling and shift planning

Accurate GPS based time tracking

Easy to use inspection tool for better reporting

Provide access to location specific training and instruction

Connect with cleaners, managers and clients

Dashboard with status and health of your location

Complete supply management

Payment options available
EXPERTISE WITH CLIENT FOCUS
Our valued clients know the RamClean difference. From industrial plants to multi-story offices, we've got every detail covered to ensure 100 percent satisfaction. As a one stop shop we also provide floor care, carpet cleaning, window washing, disinfection, deep cleaning and janitorial supply management.
ADVANCED TECHNOLOGY
At RamClean, we use the latest janitorial technology to improve our services. Our GPS-based software and mobile app enables efficient communication and remote management. Using the latest state of the art commerical cleaning and janitorial equipment, we are able to clean to a high standard in less time than most commerical cleaning companies.
RELIABILITY & ACCOUNTABILITY
Multiple layers of management and mobile cleaning crews are the core elements of a rock solid contingency plan. Our onboarding team is well organized to ensure a seamless transition from your previous contractor. Your facility is inspected routinely with full reporting. Communication is open so we can quickly address potential issues. Our goal is to be perfectly reliable with no service failures.
UNMATCHED VALUE
RamClean has found its niche as an expert in commercial cleaning. We compete with the best janitorial companies and the largest building service contractors. With a streamlined processes, customized programs and self-performing business model, we can offer a high quality service at a fair price. If you are looking for the best dollar-for-dollar value in commercial cleaning services, then lets talk!
Superior service and customer satisfaction are everything at RamClean! Our entire commercial cleaning operation is designed to deliver ongoing professionalism and the finest cleaning service in the Country.
All RamClean janitorial cleaning staff is comprised of W2 employees that are uniformed, bonded and insured. We pay better wages and treat our staff like family. We are not a franchise and we do not use subcontractors on commercial cleaning contracts. This enables us to maintain a consistent high quality standard in every company location. Our management team is hands-on and includes ISSA CMI Certified trainers that work to improve our highly skilled, cleaning teams each day.
Cleaning is not just about appearance. Our goal is provide a reliable, high end service at a fair price. Using sustainable cleaning practices and green cleaning products, we keep your building safe while eliminating virus and bacteria. Our valued clients know the RamClean difference as we work hard to maximize the health and safety of anyone that enters a "Ramcleaned" building.