Primarily used on hard floor surfaces, Kaivac is a no-touch system that combines pressure washing, chemical injection, wet vacuuming, and other tools on a single platform. Kaivac is a science-based hygienic cleaning system designed to protect employees and customers while improving cleaning operations. Kaivac technologies remove maximum harmful soils and bio pollution with speed and efficiency. This system deep cleans soils better than any other method. Kaivac machines were originally designed to improve restroom cleaning, but they also can be used on hard floors, walls, classrooms, stairwells, kitchens and hallways.
The I-mop combines the maneuverability of a mop with the cleaning performance of a walk-behind floor scrubber. The freedom of movement and great ease of use, helps get more surface area clean while making it easier on the cleaner. The I-mop always puts down clean water and uses rotating scrubbing brushes to get the floor clean. A built in squeegee and vacuum recovers the dirty water leaving behind nothing but a clean floor! This tool is light and easy to use so it works great for spot cleaning spills, dirt, slush or rainwater.
Floor Stripping, Waxing & Buffing
Floor stripping, waxing and buffing uses a combination of equipment and processes to revitalize your floors. You can turn a marked up, dirty floor into a clean and shiny surface. It starts by applying a stripping solution. Next, we use low speed scrubbers with stripping pads to work the stripping solution into the floor to loosen dirt, marks and remaining wax residue. An autoscrubber is then used to ensure the floor is clean. Once the floor is clean and dry we apply several coats of wax. Lastly a buffing machine is used to give the floor an even shine and remove any swirls or marks in the wax. At RamClean, we use floor stripping specialists as this process is highly detailed and requires a professionally trained cleaner.
ProTeam® GoFree® Flex Pro Battery Powered Backpack Vacuum
Battery powered vacuuming technology has advanced over the years. These powerful vacuums are 5X more effective than corded upright vacuums. There are many advantages to using this system. First, the ability to carry these light canisters allows our cleaners to access any area quickly without plugging and unplugging cords. The vacuum head and extensions are flexible, which allows us to bend and access the top of cabinets or tall furniture. They can also be used to reach light fixtures in tall ceilings. Lastly, these vacuums are extremely quiet at only 68 decibels. Battery pack vacuums are quiet enough that we have cleaned call centers without disturbing employees!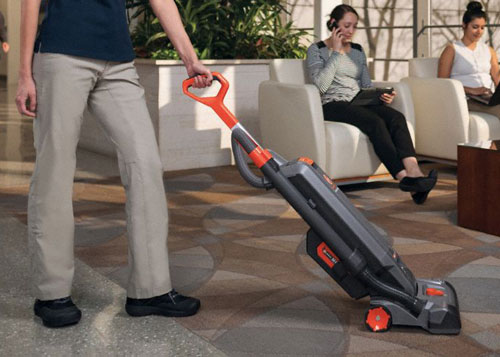 Commercial Upright Vacuums with Hepa Filtration
There are some areas in your building that will require a high powered upright vacuum. We use these vacuums in highly soiled entrance areas and carpeted rooms with heavy foot traffic. In these areas, we need to suck up more dirt, dust and debris. We also need to remove fine particles such as pollen and dust mite feces to improve air quality, which is why Hepa filtration is so important. Commercial vacuums are built to handle wear, tear and daily use
There are times when we will use a traditional mop, double mop buckets or push brooms. We use clean mop heads that are replaced or laundered frequently. These cleaning tools are useful with very light duty cleaning or spot cleaning spills. Our primary vendor is Libman Company. We are proud to support another local manufacturer from Arcola, Illinois.